SPA AND JACUZZI INSTALLATION ON THE SOUTH SHORE
Paradis Électrique offers you a full service connection of spas and jacuzzis. We travel to meet your needs and ensure compliance with safety standards. The expertise of our master electrician ensures a connection that will guarantee the proper functioning of your spa for several years. Our quick spa installation service gets you up and running in just a few hours. We also do a final check of your jacuzzi or spa, following its filling, to ensure its proper functioning. We will also explain how it works. For sound advice and quality service, in Montérégie, entrust the installation of your jacuzzi to the electricians at Paradis Électrique.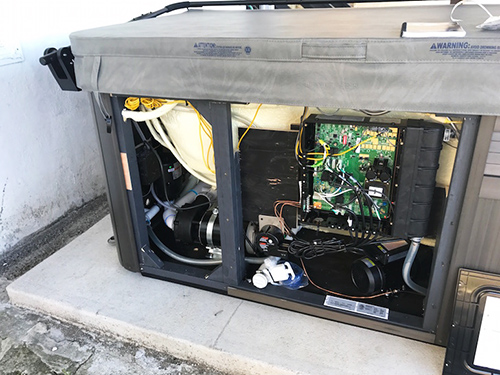 Spa and jacuzzi are essential synonymous with relaxation. The companies of electricity Paradis Inc. therefore offer several related facilities allowing you to obtain the desired atmosphere.
GFI circuit breaker
Ambient lighting
WP socket
Magic eye or timer for exterior lights (spa and pool)
Electrical input change or add a panel for your shed