Installation and renovation of electrical installations
Does your residential or commercial building require renovation of its electrical installations? If your home or building was built over 50 years ago and has never undergone an electrical renovation, the wiring and entrances inevitably need to be changed. We also offer the necessary electrical connections and additions during expansion work. The Paradis Electricity Enterprises Inc. offers you quality service at a competitive price.
Les entreprises d'électricité Paradis Inc. offrent donc plusieurs installations connexes vous permettant l'obtention de l'ambiance souhaitée.
Electrical renovation
Electrical input change
Changing the heating system
Advice on Convectairs or Convectors
Emergency lighting
All work relating to the connection
électrique de piscine ou spa...
Charging stations for electric cars
In order to adapt to growing technology, we also offer an installation service for electric car charging stations. In Quebec, such an installation requires the expertise of an electrician licensed from the R.B.Q such as Paradis Électrique (1505-3986-59).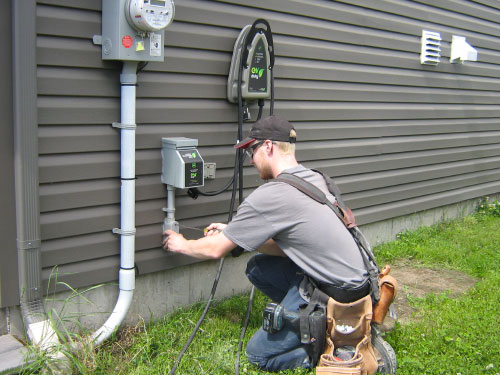 We first check if your current electrical panel has the necessary capacity (240 volts) for the installation of a charging station. Then, if necessary, we make an adjustment. By entrusting us with the installation of your terminal at home, you will be able to charge your electric vehicle without having to leave the comfort of your home. Contact Paradis Electricity Companies in St-Hubert now to find out about your options; the whole is possibly more economical than you may think!
Electrical inspections for insurance.
Notre Maître-électricien est certifié pour effectuer une inspection électrique pour votre compagnie d'assurance. Nous pouvons donc faire la vérification du panneau électrique et du filage d'aluminium. Nous vous remettrons une lettre de conformité pour votre compagnie d'assurance ou le cas échéant, une estimation des travaux nécessaires pour rendre vos installations conformes aux normes requises.